Festive Ways To Celebrate the Season in Mystic, CT
Blog
November 3, 2023
Each morning brings a touch of frost, holiday music is playing on the radio, and everyone is putting up decorative light displays – it must be nearly time for the holiday season! With the most festive time of the year approaching, you'll want to know all of the fun goings-on both in Mystic, Connecticut and in our senior living community at StoneRidge.
"This time of the year is always special," said Jamie Cornell, Director of Marketing and Sales at StoneRidge. "Our residents love all the fun activities happening both on campus and in Mystic."
If you're looking for the best ways to celebrate the season this year, check out all the fun upcoming activities you can enjoy.
Celebrate in Mystic, CT
1. Lighted Boat Parade in Downtown Mystic on Saturday, Nov. 25
Historic Downtown Mystic will kick off the holiday season at the Mystic Downtown Marina with Santa Claus arriving at the marina via tugboat. Then, the Holiday Lighted Boat Parade will begin, and you can enjoy the creative light displays floating across the water! Festivities begin at 6 p.m. and will conclude at 8 p.m.
2. Ghosts of Christmas Past Mystic Downtown Stroll on Friday, Dec. 1
This event will certainly pique your interest if you're a fan of Charles Dickens's classic ghostly holiday tale "A Christmas Carol." Learn about the historic and spooky Christmas tales as you walk through the town of Mystic at night. Seaside Shadows Haunted History Tours, LLC leads this lantern-lit walk that's certain to give you a new perspective on the chilling history of Mystic. The stroll is from 7-9 p.m.
3. Downtown Holiday Stroll & Luminaria on Wednesday, Dec. 6
From 5-9 p.m., enjoy the seaside charm of Downtown Mystic and the different holiday light displays. Listen to the Christmas carolers, stop in a few of the local shops, and definitely try the delicious drinks and treats available while you take in the hustle and bustle of this spirited night.
4. Lantern Light Village at Mystic Seaport Museum on Friday, Dec. 8, and Saturday, Dec. 16
Visit the Mystic Seaport Museum to enjoy their Lantern Light Village. With decorations inspired by both modern and 19th-century styles, you'll see the holidays through the ages as you walk through the Village. There will also be horse-drawn carriage rides, crafts, and games. The event begins at 5 p.m. and continues until 8 p.m.
Celebrate the Holidays at StoneRidge
Everyone at StoneRidge is excited to celebrate the season – especially when so much is happening right at the community.
"There is no better time to be at StoneRidge than during the holiday season!" said Michael Langlois, Community Life Services Director at StoneRidge.
StoneRidge will kick off the spirit of the season with the annual tree decorating event in the main lobby. "We invite our residents together for eggnog and cookies and decorate our 14-foot Lobby Christmas Tree together," said Michael.
He added, "Throughout the season, as soon as you step into StoneRidge, you will see the beautiful tree and poinsettias in our lobby. It's truly a sight to behold."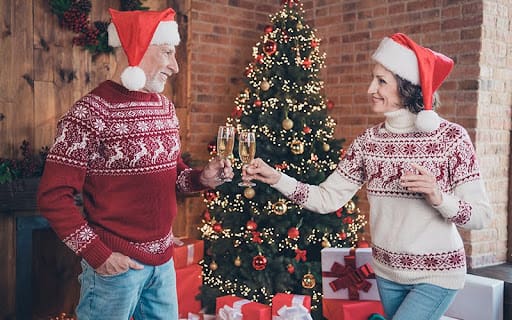 On Wednesday, December 6, StoneRidge will have the Nordic Village Showcase. There's been a lot of hustle and bustle in their residents' woodshop in preparation for the holiday season. They've been putting their gifts and talents to good use to bring a little festive flair to the community. Guests are invited for an inside look at their handcrafted village, which they've been creating and adding to since 2020. Guests will hear more about the history and creation of the village from residents and will get a front-row view of their hard work.
During this event, they'll be accepting unwrapped toys as well as winter gear donations for local charities.
A resident-led committee hosts the StoneRidge Employee Appreciation Event. They gather generous collections throughout the year so every employee receives a thank-you bonus. Michael said, "This is truly a special event that brings residents and staff together."
The annual Hanukkah Party welcomes residents of all faiths, where they can enjoy the beautiful lighting of the menorah and partake in delicious latkes.
The StoneRidge Holiday Party is one of the most anticipated events of the year. Held in the main dining room, the Culinary Team shines as they go all out for residents
and staff. "Platters of overflowing delicacies, music, and camaraderie bring us all together once again," said Michael.
StoneRidge residents take a warm bus stocked with hot chocolate and cookies to drive around town and view all the gorgeous holiday lights. Their route will go to Mystic Village and ends in
Wilcox Park in Westerly.
Michael will lead a Holiday Reading for the community. As a trained actor and performer, residents are engaged in the story he brings to life.
"There is always something engaging to do at StoneRidge, and our holiday season shows off the best of our programming as we continue to bring everyone together as a community," said Michael.
The celebrations don't stop with the end of the year – StoneRidge will ring in 2024 with a New Year's Eve Party.
Enjoy the Festive Season at StoneRidge
Located in charming Mystic, CT, StoneRidge is the ideal place for vibrant seniors to begin their next chapter. Our Life Plan Community assures residents that they'll have convenient access to care and supportive services if their needs change. If you'd like to learn more, give us a call at 860-333-8995 and schedule a visit to our beautiful campus.